"Real estate agent success can be studied, copied and duplicated into your business."
Learn the success secrets, strategies and systems of the nation's top real estate agents in up close and personal interviews. Listen to their tips, ideas, and advice. Then model their best practices and become the top agent in your office. It's all in the…
Master Mind Agent
Interview of the Month CLUB
"Forget theory. You need closings and income today! Get real-life solutions to real-life problems from top real estate agents who are earning 6 and 7 figure incomes. Learn leading-edge, actionable, step-by-step solutions used by today's top agents to add closings, revenues, and profits to their businesses." – Mike Cerrone
Success Formula:
FIND agents who are doing what you want to do,
COPY them, and take
ACTION.
Here's what top agents are saying about modeling the best agents (click each arrow to listen).
"I don't claim to be smarter, better or more successful than other people. I find people who are doing what I want to do and I model them. I truly don't believe I need to reinvent anything. I need to go find people who are doing it at a very high level and emulate them…" – Leo Pareja, #1 Agent Worldwide Keller Williams Realty with 603 closings in 2010
[audio: http://mastermindagent.com/wp-content/uploads/audio/Pareja-4.mp3]
"I had a fast start…because I listened to top performing agents…similar to what you are doing for people, Mike, interviewing top agents around the country regardless of their affiliation with their companies…it shortened my learning curve…I did the things that worked…." – Jana Caudill, #1 Agent in Northwest Indiana with 444 closings in 2006
[audio: http://mastermindagent.com/wp-content/uploads/audio/Caudill-1.mp3]
"I get more information from other Realtors than I get from anywhere else…The only advice I take is from other successful Realtors…As far as I'm concerned that is the only way to really grow massively in the real estate business is through emulating and listening to what other successful Realtors are doing.." – Pat Hiban, Billion Dollar Agent, over 5,000 homes sold in career
[audio: http://mastermindagent.com/wp-content/uploads/audio/Hiban-1.mp3]
Here's what you get when you join the CLUB:
Two (2) TOP AGENT interviews every month:

TOP AGENTS close 100-1,000 transactions per year
TOP AGENTS interviewed average:

374 closings per year
$54.1 million in volume
$1.6 million in gross commission income

TOP AGENT interviews are released on the:

7th day of the month and
21st day of the month

Learn 50% more:

Typical agent interviews are 1 hour long
CLUB interviews average 1 and 1/2 hours – 50% more tips, ideas & advice

Easy access:

Listen Online on your computer or smartphone

MP3 Recording for easy download and listening on your iPod
Here's what members are saying…
"I was tickled to find your site and have already listened to a couple of interviews. Great stuff! I had listened to StarPower® for years and was a actually interviewed myself in 2005. I forgot how much these sessions inspired me. I like your format even better. If I can ever help you in anyway, do not hesitate to call. Thanks." – John Jones

"The interviews have been so VERY helpful. I am just amazed at the level of details provided.  Today I was listening and it was so very informative. I feel so blessed to have found the Master Mind Agent website. As a new agent in the business, I attribute it and the interviews for shaving years off of my learning curve!  Thanks again for sharing!"  – Monica Williams 

"i LOVE this site and the interviews.  Thank you again." – Steve Warrene

"There are so many sites on the Internet claiming to provide information which will help boost Real Estate Agents (Realtors®) to success…One thing that stands out to me the most is the personalized response to my queries and feeling that I am actually connected to a 'real' person. No 'Hype' … just real day to day insight on how to really get ahead. You are on a winner here Mike. I have gained ideas from the interviews I have listened to on your site and I'm sure many more agents will benefit from your interviews. Thank you." – Geri Welsford

"Really enjoying these interviews. I always stay motivated, no matter the market…but these interviews give the extra boost. Thanks." -Kale Hassan

"Thank you! This was a wonderful interview, so helpful." -Connie Medeiros

"I've been busy using the information and tips from the interviews that I listened to. : ) Thank you." -Lyndee Mayes

"I wanted to tell you that I have enjoyed listening to these successful agents. I'm always picking up something from one of them. Thanks." – Shawna Frazier

"I have listened to 4 of the interviews. Pretty good stuff." – Martin Zawarski

"You've got a nice little business. Good content and good value. I've got a neat way to listen to them rapidly with my android phone at 2x normal speed (no loss of comprehension). Best of success going forward!" – Mark Stewart

"Great site and great idea! Keep up the good work." – Keith Bennett

"Good interview! Lots of great ideas to try. I will be working on this today. Thanks!" -Doris Duhamel-Labbe

"Very informative. Thank you so much for doing this. It's a great resource." – Connie Medeiros

"It sure is a great site." – Dr John M Vos

"I am thrilled to listen. Love all the interviews. Thank you for your product!" – Kevin Duffy

"Great site. The duration of the interviews and depth of information shared I found to be extremely helpful. Keep up the good work!" – Daniel Vasquez

"Wow! It was like she was sitting in my living room telling me exactly how she did it as though I was her family." – Vicki Gonzales

"I loved it, wow that guy is amazing…… I really cannot believe he did all that at such a young age. Nice interview and thanks, I received alot of information." – Jennifer Napier

"Excellent, great ideas that I can implement right away. Great interviews. Very valuable. Thanks for this service." – Antonio Atoche

"LOVE THE PRODUCT! I have already used some of the things from the agents." – Rico Glover
Consult with 2 Top Agents Every Month
Imagine sitting down and talking 1-on-1 with 2 top agents every month. They agree to tell you anything you want to know about their business. What would you ask them? How much would you learn? Do you think you could improve your business? Generate more buyers? More sellers? Have more closings? Earn more money?
There's only one catch. You have to pay them for their time. TOP AGENTS earn about $750 to $1,500 per hour. Together you would have to pay about $1,500 to $3,000 to talk to BOTH agents for one hour each month. Ouch!
Now you can hear up-close and personal interviews with 2 top agents every month for only a small fraction of their hourly rate.
More top agents speak out (click each arrow to listen).
"I think, if you're not inspired by the things you hear on the recordings, you're crazy. I don't know where people get their motivation from if not from other people. The stories, the passion, the drama, all of that is right here. If you don't understand this marketplace, listen to the things on this website and you're going to have motivation and a game plan…" – Mike Phillips, #1 Agent USA in The Wall Street Journal / Real Trends Report with 1,268 closings in 2010
[audio: http://mastermindagent.com/wp-content/uploads/audio/Phillips-3.mp3]
"My first year I closed 69 transactions…I went from making $40k as a teacher to making $430k…I educated myself…I followed other people in the industry who were successful and tried to emulate them…Why reinvent the wheel? Take it from somebody who's doing a great job and copy them…There's nothing wrong with that. Just saving yourself some time and money…" – Krista Mashore, 107 closings in 2010
[audio: http://mastermindagent.com/wp-content/uploads/audio/Mashore-1.mp3]
"One of the reasons I actually ended up choosing to be a residential Realtor® is because I got a hold of these interviews, much like your doing now, where I was listening to top agents around the country … I was thinking to myself, 'They're not any smarter than me. If they can do it, I can do it.'" – John Morley (on track to close 100 homes this year)
[audio: http://mastermindagent.com/wp-content/uploads/audio/Morley-1.mp3]
.
Membership Value:
$39.95 single TOP AGENT interview price (1st interview each month)
$

39.95

single TOP AGENT interview price (2nd interview each month)
$79.90 value each month for BOTH interviews

x 12

months
$958.80 value each year for all 24 interviews
But you won't pay $1,000.
You won't pay $800.
You won't even pay $500.
Check out what you get in this incredibe offer…
Here's what you'll get:
2012 Pass

2012 Pass

– ($958.80 value)

You get immediate access to the 2012 top agent interviews plus 2 NEW interviews each month through the end of year.

Jan 7 – Pat Hiban – 508 closings. $208 million.
Jan 21 – Mark Delgado – 92 closings. $16.9 m.
Feb 7 – Doug & Kirsten Hill – 138 close. $23 m.
Feb 21 – Joshua Smith – 416 closings. $42 m.
Mar 7 – Chantel Ray – 810 closings. $94 m.
Mar 21 – Lindsay Sanger – 166 closings. $13 m.
Apr 7 – Michael Balsitis – 411 closings. $22 m.
Apr 21 – Ellen Brewood – 423 closings. $30 m.
May 7 – Don Wenner – 394 closings. $81 million.
May 21 – Ellen Mitchel – 167 closings. $18 m.
Jun 7 – Russell Shaw – 403 closings. $55 m.
Jun 21 – Raquel Quinet – 253 closings. $27 m.
Jul 7 – Wayne Turner – 286 closings. $51 m.
July 21 – TBD
Aug 7 – TBD
Aug 21 – TBD
Sep 7 – TBD
Sep 21 – TBD
Oct 7 – TBD
Oct 21 – TBD
Nov 7 – TBD
Nov 21 – TBD
Dec 7 – TBD
Dec 21 – TBD

Bonus 1- My Resources – ($129.00 value) This is a member download area with all of the helpful resources the top agents have given to help you succeed. There are sample advertisements, magazines, directories, postcards, websites, blogs, emails, resumes, checklist, forms, scripts, pictures, videos, links, and more. You're welcome to incorporate these ideas into your business.
Bonus 2 – 2011 Pass – ($958.80 value) All 24 top agent and rising agent interviews of 2011. Includes:

Leo Pareja – 603 closings. $118 million.
John Morley – 69 closings. $13.9 m.
McDaniel-Callahan – 54 close. $77 m.
Brandon Hunt – 52 closings. $11.7 m.
Tyler Smith – 171 closings. $32 m.
Teresa Staiano – 44 closings. $7.9 m.
Daniel Del Real – 196 close. $25 m.
Kate Hamlin – 29 closings. $5.0 m.
Chad Goldwasswer – 543 close.$123m.
Spring Bengtzen – 47 closings. $11.3 m.
Jana Caudill – 444 closings. $93 m.
Mike Muren – 33 closings. $7.6 m.
Jose Medina – 155 closings. $21 m.
Christina Valkanoff – 37 close. $7.0 m.
Carin Nguyen – 896 closings. $78 m.
Angie VanEman – 42 closings. $8.5 m.
Mike Phillips – 1,268 closings. $35 m.
Wayne Salmans – 92 closings. $16 m.
Rob Levy – 92 closings. $34 m.
Stephanie Gasparovic – 57 close $10 m
Tom Rubens – 317 closings. $21 m.
Andy Mulholland – 44 closings. $6.1 m.
Krista Mashore – 107 closings. $22 m.
Jeremy Chubb – 213 closings. $19 m.

Bonus 3 – 101 Ways to a Six Figure Income as a Real Estate Agent Toolkit

"How to get more clients in a month than you now get all year"

– ($197.00 value) Proven agent marketing system includes: 471 page system manual, 527 sample ads, and 3 hours of audio instruction (digital product).
***Bonus 1,2 & 3 are only available to the

next 25 agents

who order the 2012 Pass***

Total Package Value

$2,243.60

Price Today

– MMA CLUB – 2012 Pass + 3 Bonus Pack

$297
.
Click the "Yes! Let Me In!" button below and gain instant access…
.
Join the CLUB today. Just click on the "Yes! Let Me In!" button above. You'll be taken to PayPal where you can set up an account and purchase securely with any major credit card or debit card (takes about 3 minutes). PayPal is super easy and safe (we never see your credit/debit card information) . After you pay, you'll receive an email with your membership username and password. Then you'll have instant access to all the 2012 top agent interviews and two new interviews each month plus the 3 bonus pack.
The ROI is huge. Think about this. If you only learn one new idea that generates one more closing, your commission will pay for the CLUB for 10 years. Of course, you're going to hear more than one idea…way more.
In these interviews, you'll discover how to:
Generate more buyer and seller leads,
Close more transactions,
Make more money,
Work fewer hours,
Take weekends off,
Spend more time with your family, and
Enjoy more success.
"You'll hear ideas you have not heard before that can dramatically improve your business. I call these GEMs (Golden Educational Moments). You should immediately write down these ideas and incorporate them into your business. You'll also hear ideas you have heard before but were too busy or forgot to implement. It's always helpful to be reminded of these GEMs. Write these ideas down immediately and promise yourself you'll make them part of your business in the next 7 days. The key is to act quickly to profit greatly. Top agents are always adapting, adjusting, and growing. And you should do the same." – Mike Cerrone
"I have listened to about 9 interviews so far. I ran down my ipod battery. Thanks for the good idea of downloading them onto an ipod and taking them with me. They are great, and it is so nice to hear so many new ideas, and old ones I forgot or remembered but lacked the motivation to act on. I am looking forward to getting back to work." -Albert Maxwell Goldberg

"Thanks for what you do…it's a great contribution to the real estate industry!" – Andy Mulholland

"I greatly appreciate the opportunity to listen to the "best" without having to attend a workshop. I suspect I will glean something of value from every interview I listen to. Thank you for your interviews and I believe your "Product" is worth every penny." – Gary Raze
Why reinvent the wheel?
The top agents already figured it out. Just listen and learn.
Plus, when you join you'll my 100% satisfaction guarantee…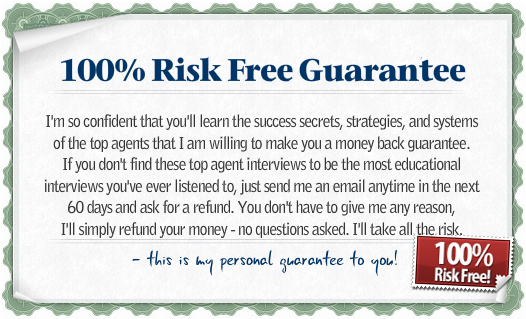 Join the CLUB today. Click the "Yes! Let Me In!" button below and gain immediate access.
.
Still on the fence?
What would a top agent do?
Top agents speak out about the value of interviews…
(To listen, click on the "arrow" under the top agent's picture.)
" I don't consider myself a hugely smart person. I didn't go to college. But I can learn from what other people are doing, adapt, and use that myself…I say, "What a great idea! How can I apply that to my market?"…Some say, "That'll never work in my market." And I think the successful agents say, "How can that work in my market?" And that's the difference…" – Rob Levy, #1 Prudential Agent in Portland, Oregon with 92 closings in 2010
[audio: http://mastermindagent.com/wp-content/uploads/audio/Levy-1.mp3]
"Great job on the website…invest in yourself…go buy a book…go subscribe to this website that gives you these insights…it's valuable…your interviewing a lot of high-end agents…I'm going to go through them…maybe that will be my edge…I think it's great…I think there's a lot of things of value…" – Daniel Del Real, #1 Agent in Modesto, California with 196 closings in 2010
[audio: http://mastermindagent.com/wp-content/uploads/audio/Del-Real-1.mp3]
" Top agents from around the country discussed their business models…How they go about earning business and how they've become successful…There are certain core elements that I think as you listen to multiple interviews that you can identify across the board and that will give you the strengh to take those and run with them and apply them for your own business." – Mark Delgado, sold 92 homes in 2010 working as a single agent with no team.
[audio: http://mastermindagent.com/wp-content/uploads/audio/Delgado-1.mp3]
"…If people listen to these interviews and they actually implement what these top agents are doing, it's a recipe for success…I don't know of any other industry that does something like this where the top people across the United States get together and share that type of information. It's very important and if you just do it, you'll be successful." – Jose Medina, #1 Agent in Stark County, Ohio with 155 closings in 2010
[audio: http://mastermindagent.com/wp-content/uploads/audio/Medina-1.mp3]
What would a top agent do?
Click the "Yes! Let Me In!" button below and join the CLUB today!
Who is Mike Cerrone? Why is he doing this CLUB?
Hi. I'm Mike Cerrone. I've been a real estate agent in Colorado for 18 years. People ask me all the time why am I doing this CLUB. The answer is simple. It works! Here is my story.
In 1993, I got my real estate license. I finished real estate school and knew how to fill out a contract. But I did not know how to make money. For the first 18 months, I starved. I worked hard, closed 12 transactions, lived in a small 400 square foot rental apartment, and ate Top Ramen…lots of Top Ramen. I was ready to give up and quit.
Then a veteran agent handed me a cassette tape (I just dated myself) and told me to listen. It was a recorded interview with a top agent. Wow! It opened my eyes to a whole new world. I wanted more. So I contacted the interview company and joined their interview of the month club. It was awesome. I liked it so much I bought all the prior interviews too. I listened in my car, at the office, even while working out.
I became excited about the business again. I realized all the things I was doing wrong…and how to do things the right way. I started taking action based on the tips, ideas, and advice on the tapes. Pretty soon things were looking up.
My production jumped to 21 closings per year, then 41, then 95, and then 113. That year I was ranked by the National Association of Realtors Magazine in the Top 300 Residential Salespeople (#263) in the nation. It was awesome. I went on to build a real estate brokerage and a mortgage brokerage.
The man who did the incredible interviews retired. I can attribute so much of my success to those interviews. He helped thousands of aspiring agents…and I was one of them. So I decided to give back and "pay-it-forward." I picked up the baton and started interviewing top agents so that future aspiring agents can learn the top agent success secrets, strategies, and systems.
After interviewing top agents, I can tell you this. These people are amazing. They are knowledgeable, caring, talented, and thirsty to learn more. Best of all, they want to give back. Many of them learned from prior top agents (just like I did). When they talk, they don't hold anything back. They tell you exactly what they did to make it to the top…even the problems and setbacks they faced and how they dealt with them.
I invite you to go with me on this journey of discovery to look inside the businesses and the mindsets of the people who have made it to the top of our profession. I hope you'll join me in the Interview of the Month CLUB.
–Mike Cerrone