Tyler Smith

***Note: If you can not see the audio player above, REFRESH your browser and try again.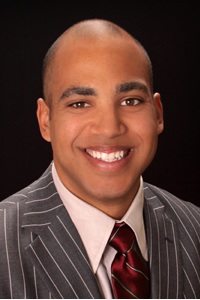 .
.
.
.
To listen on iTunes, click HERE.
To listen on Google Play, click HERE.
To download, right click the "Download" link below and "save as" to your computer.
Download FULL Running Time: 1:51
Website:
Background:
Tyler Smith works with Keller Williams Realty in Folsom, California. He services the Tri-County area of: Sacramento, Placer, and El Dorado Counties. Last year, he closed 171 transactions with a total sales volume of 32 million. His average sales price was 187 thousand, of which 16% were buyers and 84% were sellers. He operates a team with 5 members: 2 executive assistants, 1 buyer agent, 1 field runner, and 1 team leader.
Tyler Smith is the team leader of The Smith Team. He has been an agent for 7 years. Tyler specializes in selling REO and Short Sale properties. Last year Tyler was ranked the #1 Agent for Keller Williams Realty in Sacramento County and ranked in the Top 50 agents nationally for Keller Williams Realty. Not bad for a young man who is only 27 years old and selling homes in a down market.
Tyler started into real estate at a young age. Although he had a slow start, he is firing on all cylinders now. Tyler has a rare gift of being both analytical and charismatic. He uses his analytical skills to develop and implement systems and standardized checklists. He uses his charisma to quickly build rapport with asset managers, prospects, and staff.
Tyler loves to learn new ideas…and implement them. He is energetic, full-of-life, animated, and tenacious. He has the gift of story telling and uses it to paint vibrant pictures. He peppers his speech with wonderful quips such as: "go from making a living to making a fortune", "if it doesn't make money, it doesn't make sense", and "what you give out in slices, comes back to you in loaves." Tyler believes "the early bird gets the worms" and typically rises before daybreak.
2010 Stats:
171 closings
32 million sales volume
187 thousand average price
16% buyers and 84% sellers
5 member team:

2 executive assistants
1 buyer agent
1 field runner
1 team leader
Niche:
(originally published on 03/21/11)