In this call, Judy and Dave talk about:
Dual Markets:  running TWO practices in TWO different markets 670 miles apart as couple agents (with no assistants).
How to run the OLD market practice remotely with no team or assistants.
Starting in a brand NEW market where they did not know anyone and selling 33 properties in the first 6 months.
Their blueprint for becoming the neighborhood expert and taking the dominant position fast.
The launch plan they use to start a geographic farm.
Strategies for learning the area fast and networking with the neighbors.
How to list non-owner occupied properties.
Why they prefer to work the luxury market.
Their monthly market report that brings in 12 or more calls per mailing.
Why the domain name of your website is so important.
Profit margins, advice, and more.
Judy and Dave Smith SUCCESS CALL …
Watch video above or listen to audio below:
***Note: If you can not see the audio player above, REFRESH your browser and try again.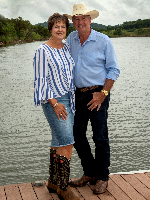 .
.
.
.
To listen on iTunes, click HERE.
To listen on Google Podcast, click HERE.
To download, right click the "Download" link below and "save as" to your computer.
Download FULL Audio Running Time: 63 minutes
Background:
Judy and Dave Smith are with Possum Kingdom Real Estate in Graford, Texas. In the last 12 months they closed 55 transactions with a total sales volume of 22 million. Their average sales price was 401 thousand of which 30% were buyers and 70% were sellers.
Judy and Dave are a couple with no assistants and have been agents for 34 and 20 years respectively.
Website:
2020 Stats:
55 closings
22 million sales volume
agent couple without an assistant
Niche:
geographic farming
repeat & referrals
past clients
sphere of influence