In this call, Monica talks about:
Life before real estate as a stay-at-home mom.
Early years and her slow start.
Why she almost quit and the decision she made that changed everything.
How she sold 162 homes in one year as a solo agent with one part time assistant.
The month that she had 38 pending closings.
Definition of a system and why she believes you should "only have a problem once".
Structuring her calendar with single purpose tasks for each day of the week.
Her 3 majors for each day.
Why small community agents can post big numbers just like the big city agents.
How she received 1 closing from every 4.3 people in her PCSOI database … a 23% Referral Productivity Percentage.
Her Annual Marketing Plan to her past clients that resulted in 81 closings last year.
Her easy going Tag On Referral Script you can add to the end of any conversation.
Community Networking Referrals.
Internet Leads and the two questions you want to ask when you first talk.
Hot Buyer List Strategy and her follow up system that results in 25% of her qualified internet leads closing.
How she Double Ended (worked with both buyer and seller on same closing) half of her transactions last year.
Taking 4 vacations per year for 7 to 10 days each.
Profit margins, advice, and more.
Monica Angeles SUCCESS CALL …
Watch video above or listen to audio below:
***Note: If you can not see the audio player above, REFRESH your browser and try again.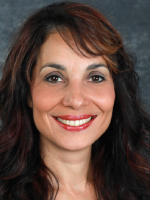 .
.
.
.
To listen on iTunes, click HERE.
To listen on Google Podcast, click HERE.
To download, right click the "Download" link below and "save as" to your computer.
Download FULL Audio Running Time: 65 minutes
Background:
Monica Angeles is with Jones Heritage Realtors in Pittsburg, Kansas. Last year, she closed 162 transactions with a total sales volume of 20 million and earned 614 thousand in GCI. Her average sales price was 126 thousand of which 42% were buyers and 58% were sellers.
Monica is a solo agent with One part time assistant. She has been an agent for 14 years.
Website:
2021 Stats:
162 closings
20 million sales volume
solo agent with one part time assistant (solo with a sidekick)
Niche:
community networking
repeat & referrals
past clients
sphere of influence