Christina Valkanoff

***Note: If you can not see the audio player above, REFRESH your browser and try again.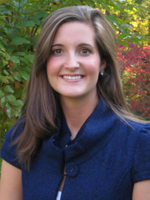 .
.
.
.
To listen on iTunes, click HERE.
To listen on Google Play, click HERE.
To download, right click the "Download" link below and "save as" to your computer.
Download FULL Running Time: 1:32
Website:
Background:
Christina Valkanoff is with Keller Williams Realty in Raleigh, North Carolina. She works The Triangle (Raleigh, Durham, and Chapel Hill). Last year, she closed 37 transactions with a total sales volume of 7.0 million. Her average sales price was 189 thousand, of which 54% were buyers and 46% were sellers. She operates a team with 4 members: 1 client care specialist, 2 buyer specialists, and 1 team leader.
Christina Valkanoff is the team leader of the Christina Valkanoff Realty Group. She has been an agent for 9 years. Christina focuses on building relationships with her sphere of influence to generate repeat and referral business.
The last few years have brought many changes to her business. In 2009, Christina closed 46 transactions worth 10.1 million with one administrative assistant. It was fun, but it took its toll. Christina was burned out after working from 6 in the morning to 9 at night seven days a week. Then she decided to start a family. With a baby on the way, Christina knew she had to do things differently to make time for the new baby and her husband.
Christina decided to expand her team and reduce her hours. This year business is up 30% over last year, she works 3 to 4 days a week, and she spends time with her four month old daughter. Listen closely to how she made the transition from single agent to team leader.
2010 Stats:
37 closings
7.0 million sales volume
189 thousand average price
54% buyers and 46% sellers
2 member team

1 client care specialist
2 buyer specialists
1 team leader
Niche:
(originally published on 08/07/11)