Louise Juracek SUCCESS CALL
***Note: If you can not see the audio player above, REFRESH your browser and try again.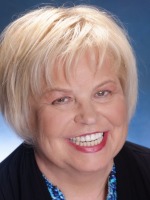 .
.
.
.
To listen on iTunes, click HERE.
To listen on Google Play, click HERE.
To download, right click the "Download" link below and "save as" to your computer.
Download FULL Running Time: 1:30
Website:
Background:
Louise Juracek is with Coldwell Banker in Bakersfield, California. Last year she closed 138 transactions with a total sales volume of 16 million. Her average sales price was 118 thousand of which 34% were buyers and 66% were sellers. Last year she had a 4 member team: 1 sales partner, 1 office manager, 1 assistant, and 1 team leader.
Louise Juracek is the team leader of The Louise Juracek Team. She has been an agent for 33 years. She works the Kern County market.
In this call, Louise talks about:
Selling 35 homes her first year while working part time at real estate
What she did to get the top agent in her office to mentor her
How she personally closes over 100 transactions per year
Starting every day by asking: "Where's the deal coming from today?"
Setting the ambition goal to schedule 100 appointments in 4 months
Script for engaging your family, friends, and past clients in your goals
Why you should go Elephant Hunting one day per week
How to become the Multiple Listing Salesperson for a new home builder and list their excess inventory on the MLS
Why you should track unsold inventory
How to make lunch time pay off in referrals
Her minimum commission income goal per transaction
The script to capture the open house visitor's attention within 10 seconds
Why she keeps her past client and sphere of influence list small
How she generates over 60% of her business by repeat and referral
Her referral script including a role play that results in 2 leads
How her "love of people" results in "clients for life"
Team dynamics, compensation, profit margins and more
2015 Stats:
138 closings
16 million sales volume
4 member team:

1 sales partner
1 office manager
1 assistant
1 team leader
Niche:
builder MLS
open houses
repeat & referrals
past clients
sphere of influence
(originally published on 09/21/16)