Mike Wall SUCCESS CALL
***Note: If you can not see the audio player above, REFRESH your browser and try again.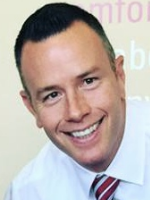 .
.
.
.
To listen on iTunes, click HERE.
To listen on Google Play, click HERE.
To download, right click the "Download" link below and "save as" to your computer.
Download FULL Running Time: 56 minutes
Website:
Background:
Mike Wall is with eXp Realty in Dayton, Ohio. Last year he closed 322 transactions with a total sales volume of 48 million. His average sales price was 150 thousand of which 49% were buyers and 51% were sellers.
Mike has a 21 member team: 16 agents, 2 inside sales representatives, 1 listing manager, 1 contract manager, 1 marketing manager, and 2 team leaders.
Mike is a co-team leader of Love Ohio Living. He has been an agent for 10 years and works the Dayton and Cincinnati markets.
In this call, Mike talks about:
Mentoring under a top agent as a buyer agent for five years and selling 81 homes in his peak year
Getting wiped out during the Great Recession including losing his house to a foreclosure short sale
Leaving the business to work in another industry for five years
Easing back into real estate by calling expired listings part time while keeping his 9 to 5 job
In six months of working in the evenings and weekends he relisted 44 expired listings … and decided to go full time in back into real estate
The key statistic that results in the most success with expireds and how you can put the odds in your favor to beat out other agents
His proven approach to expired listings
How he went from ZERO to 300 closings in 5 years
What he did to build a team to the 7th Level so it runs without him
How he how gets 85% of his business by repeat and referrals from past clients and sphere of influence including his extensive annual marketing plan
Team dynamics, compensation, profit margins, and more
2017 Stats:
332 closings
48 million sales volume
21 member team:

16 buyer agents
2 inside sales representatives
1 listing manager
1 contract manager
1 marketing manager
2 team leaders
Niche:
expired listings
repeat & referrals
past clients
sphere of influence
(originally published on 11/07/18)