In this call, Caleb talks about:
Working at Chick-Fil-A before entering real estate.
Getting his real estate license at 18 years old.
Plateauing and getting stuck at the same production level for two years.
Finding a mentor who showed him how to look at the numbers and the scientific side of real estate sales and business planning.
By tracking ONE key number daily, he was able to TRIPLE his production in one year.
Going from 11 million to 34 million in sales and earning 925 thousand in GCI.
Showing and describing his Blueprint Tracker with all his numbers for planning and tracking.
His annual SOI marketing program that brought in 56% of his business.
The number one "old fashioned" marketing method that draws the most business.
Why he shifted from a transactional to a relational based business.
The importance of knowing your on market and stats.
Several book recommendations, and more.
Caleb Spears SUCCESS CALL …
Watch video above or listen to audio below:
***Note: If you can not see the audio player above, REFRESH your browser and try again.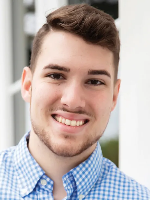 .
.
.
.
To listen on iTunes, click HERE.
To listen on Google Podcast, click HERE.
To download, right click the "Download" link below and "save as" to your computer.
Download FULL Audio Running Time: 72 minutes
Background:
Caleb Spears is with Sotheby's International Realty in Santa Rosa Beach, Florida. Last year, he closed 41 transactions with a total sales volume of 34 million. His average sales price was 843 thousand of which 54% were buyers and 46% were sellers.
Caleb is a luxury agent and team member of the Spears Group. He has been an agent for 4.5 years.
Website:
2020 Stats:
41 closings
34 million sales volume
member of a luxury team
Niche:
luxury homes
repeat & referrals
past clients
sphere of influence