Terry Moerler SUCCESS CALL
***Note: If you can not see the audio player above, REFRESH your browser and try again.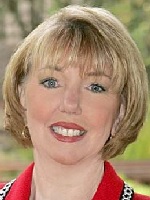 .
.
.
.
To listen on iTunes, click HERE.
To listen on Google Play, click HERE.
To download, right click the "Download" link below and "save as" to your computer.
Download FULL Running Time: 1:40
Website:
Background:
Terry Moerler is with Keller Williams Realty in Westlake Village, California. Last year she closed 68 transactions with a total sales volume of 40 million. Her average sales price was 590 thousand of which 44% were buyers and 56% were sellers. She operates a team with 5 members: 1 Realtor partner, 1 showing partner, 1 transaction partner, 1 listing partner, and 1 team leader.
Terry Moerler is the team leader of Terry Moerler Partners. She's been an agent for 35 years, sold 110 homes in her best year, and helped over 2,100 families move in her career.
In this call, Terry talks about:
Moving to California as a single mom and starting from scratch
How her passion for real estate investing turned into a career as an agent
Running her own brokerage, then working for another brokerage, eventually taking over a third brokerage, and being a top producing agent the entire time
How she turned around a lack-luster brokerage and built it into a powerhouse
What she does to generate over 90% of her personal production by repeat & referrals from her past clients & sphere of influence
The exact steps to her simple (yet profitable) referral marketing and prospecting program
Her team showing partner
Achieving the 7th Level in both her personal team and her 250 agent brokerage
Team dynamics, compensation, profit margins, and more
2013 Stats:
68 closings
40 million sales volume
5 member team:

1 REALTOR partner
1 showing partner
1 listing partner
1 transaction partner
1 team leader
Niche:
repeat & referrals
past clients
sphere of influence
(originally published on 07/21/14)