Doug & Kirsten Hill SUCCESS CALL
***Note: If you can not see the audio player above, REFRESH your browser and try again.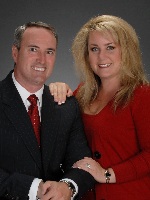 .
.
.
.
To listen on iTunes, click HERE.
To listen on Google Play, click HERE.
To download, right click the "Download" link below and "save as" to your computer.
Download FULL Running Time: 1:52
Website:
Background:
Doug & Kirsten Hill are with Coldwell Banker Residential Brokerage in Mesa, Arizona. They work the east valley of Metro Phoenix. Last year they closed 138 transactions with a total sales volume of 23 million. Their average sales price was 165 thousand of which 49% were buyers and 51% were sellers. They operate a team with 6 members: 1 listing manager, 1 short sale manager, 1 transaction manager, 1 REO manager, 1 buyer agent, and 1 showing agent.
Doug & Kirsten Hill are the team leaders of The Hill Group. Doug has been an agent for 11 years and Kirsten for 19 years. This husband and wife team specializes in past client repeat and referral business which accounted for 50% of their production last year. They generated 25% of their business from REO/Foreclosure, 15% from online activities, and 10% from relocation work.
Doug & Kirsten will go into detail about how they develop, maintain, and expand their business with past clients including how they collect data, follow-up, and market with events like movie nights, BBQs, and exclusive dinners.
This is a family operation. Doug & Kirsten are joined by their two adult sons, Joshua and Andrew. The Hill Group has weathered the changing markets of the last few years by being flexible, forward looking, and open to change.
Doug & Kirsten are experimenting with the showing agent concept. This is a division of task traditionally handled by a buyer agent. Listen to how it is working out.
Kirsten has become an expert at processing and closing short-sales. Listen to how she gets her files accepted and approved.
Doug was featured on HGTV House Hunters. Doug takes you behind the scenes and describes what really happens to make one episode.
2011 Stats:
138 closings
23 million sales volume
165 thousand average price
49% buyers and 51% sellers
Sole – Practitioner
6 member team:

1 listing manager
1 short sale manager
1 transaction manager
1 REO manager
1 buyer agent
1 showing agent
Niche:
Past Client
Short Sale
REO
Internet
Relocation
(originally published on 02/07/12)