Tami Spaulding SUCCESS CALL
***Note: If you can not see the audio player above, REFRESH your browser and try again.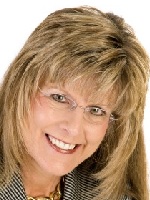 .
.
.
.
To listen on iTunes, click HERE.
To listen on Google Play, click HERE.
To download, right click the "Download" link below and "save as" to your computer.
Download FULL Running Time: 1:36
Website:
Background:
Tami Spaulding is with The Group in Fort Collins, Colorado. Last year she closed 85 transactions with a total sales volume of 22 million. Her average sales price was 257 thousand of which 35% were buyers and 65% were sellers. She operates a team with 3 members: 1 listing manager, 1 contracts manager, and 1 team leader. Tami has been an agent for 26 years and sold 2,000 homes in her career.
In this call, Tami talks about:
Working in the title business and as a top agent assistant before getting her license
How she consistently sells 100 homes per year with a small team
…and why she did not reach her 100 home goal in 2013
How she dealt with a major family challenge
…and how her team keep things going when she missed 7 weeks of work
Should you tell your sphere of influence about your family issues
Why systems, checklists, and team members make a real business
How she generates the majority of her business from repeats and referrals from her previous clients, sphere of influence, and REALTOR referrals
Scripts for calling your sphere of influence
Her annual marketing plan including a month-by-month description
Why "relationships" are everything and how to make them blossom
How to make "fun" part of everything you do
Why she has a Top 50 Group and how she selects them
Her REALTOR referral program that results in 28-33% of her business each year
The power of daily rituals, a formal schedule, and affirmations
Monthly P&L reviews and how she achieves a 65% profit margin
"The Book", what's inside it, and more
2013 Stats:
85 closings
22 million sales volume
3 member team:

1 listing manager
1 contracts manager
1 team leader
Niche:
repeat & referrals
past clients
sphere of influence
REALTOR referrals
(originally published on 06/07/14)