Vicky Blair-Martin SUCCESS CALL
***Note: If you can not see the audio player above, REFRESH your browser and try again.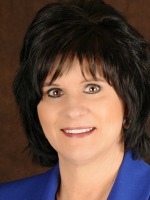 .
.
.
.
To listen on iTunes, click HERE.
To listen on Google Play, click HERE.
To download, right click the "Download" link below and "save as" to your computer.
Download FULL Running Time: 1:29
Website:
Background:
Vicky Blair-Martin is with Coldwell Banker in Elko, Nevada.  Last year she closed 140 transactions with a total sales volume of 33 million.  Her average sales price was 241 thousand of which 30% were buyers and 70% were sellers.  She has a 5 member team:  1 buyer agent, 1 transaction manager, 1 listing manager, 1 runner, and 1 team leader.
Vicky Blair-Martin is the team leader of the Blair-Martin Team.  She has been an agent for 25 years.  She works the Elko and Spring Creek markets.
In this call, Vicky talks about:
Starting part time in real estate and making more money than her prior full time job as a dental assistant
Working a small rural "gold mining" community that averages only 55 sales per month
How her production increased from 35 closing per year by herself to 140 closing with 1 buyer agent when she hired a coach at the Mike Ferry Organization
In her best year she personally closed 102 homes
Why she makes 40 calls per day for two and half hours each morning
Who she calls and what she says
How she gets 1 listing appointment from every 32 contacts
Role plays and scripts for:  prospecting calls to your past clients and sphere of influence, voice mail messages, appointment setting, and seller qualification
The expectation that 10% of your past clients and sphere of influence will send you a transaction this year if you contact them by phone and mail 4 time per year
A description of the postcard she mails and why it works
Her huge 70% profit margin by running a prospecting based practice
What is in her pre-listing package
Role playing partners, mastermind calls, and the one minute listing presentation
Script for canceling a listing appointment for the seller with a competing agent
Where to hire people with the best work ethic for your team
How you can help home builders and end up listing their new construction projects
Team dynamics, profit margins and more
2016 Stats:
140 closings
33 million sales volume
5 member team:

1 buyer agent
1 transaction manager
1 listing manager
1 runner
1 team leader
Niche:
telephone prospecting
FSBO
builders
repeat & referrals
past clients
sphere of influence
(originally published on 03/21/17)