In this call, Tammy talks about:
Selling 45 homes her first year and being named Rookie of the Year.
How she sold 85 homes her fourth year before agreeing to hire her first assistant.
Why she believes the price of the home never matters.
The need to keep rainy day money.
Her biggest past client event including marketing and cost.
Why she never asks for referrals.
How to get radio ads for one dollar per 30 second spot.
Her 24 page qualterly personal magazine that cost her zero.
Why she runs a fleet of moving trucks and cars including insurance and acquisition costs.
The benefit of offering company mobile phones to your agents.
Team dynamics, compensation, profit margins, and more.
Tammy Hines SUCCESS CALL …
Watch video above or listen to audio below:
***Note: If you can not see the audio player above, REFRESH your browser and try again.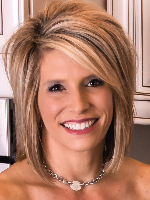 .
.
.
.
To listen on iTunes, click HERE.
To listen on Google Podcast, click HERE.
To download, right click the "Download" link below and "save as" to your computer.
Download FULL Audio Running Time: 61 minutes
Website:
Background:
Tammy Hines is with Tammy Mitchell Hines & Company in Columbia, Illinois. Last year, she closed 357 transactions with a total sales volume of 66 million and earned 1.4 million in GCI. Her average sales price was 186 thousand of which 45% were buyers and 55% were sellers.
Tammy leads a team with 12 members. She has been an agent for 24 years.
2018 Stats:
357 closings
66 million sales volume
12 member group:

1 listing partner
6 buyer agents
1 photographer
1 marketing director
1 office manager
1 office admin
1 team leader
Niche:
radio ads
personal magazine
vehicle fleet
repeat & referrals
past clients
sphere of influence