In this call, Chuck talks about:
The ONE thing he did to double his production from 50 to 100 closings in one year with only 3 people.
Selling 100 units per year for the last 7 years in a row.
3 ways he dramatically raised his average sales price and and his GCI to seven figures.
How an "old fashion snail mail" newsletter to 125 people set up his biggest gains.
Why he avoids shiny new lead generation trends (like buying internet leads) and instead focuses on high profit margin transactions.
The power of written goals.
Why he chose high profits over high volume.
His 36 touch marketing plan that is easy to implement, generates massive referrals, and resulted in a 28 to 1 ROI.
Team dynamics, compensation, profit margin, and more.
Chuck House SUCCESS CALL …
Watch video above or listen to audio below:
***Note: If you can not see the audio player above, REFRESH your browser and try again.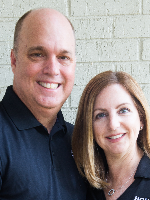 .
.
.
.
To listen on iTunes, click HERE.
To listen on Google Podcast, click HERE.
To download, right click the "Download" link below and "save as" to your computer.
Download FULL Audio Running Time: 68 minutes
Website:
Background:
Chuck House is with Keller Williams Realty in Memphis, Tennessee. Last year, he and her team (The House Team) closed 109 transactions with a total sales volume of 39 million. His average sales price was 359 thousand of which 48% were buyers and 52% were sellers.
Chuck leads a team with 8 members. He has been an agent for 20 years.
2019 Stats:
109 closings
39 million sales volume
8 member group:

3 buyer agents
1 listing agent
1 transaction manager
1 listing manager
1 director of marketing
1 team leader
Niche:
repeat & referrals
past clients
sphere of influence