In this call, Paula talks about:
Being a stand-up comic and paramedic before becoming a real estate agent.
Selling ZERO homes her first year.
How she conquered the fear of prospecting (call avoidance) and sold 10 homes her second year.
Earning 525k in GCI last year by calling 30 people every morning.
Why she remains a proud solo agent leveraging her personal production with administrative staff (hint: super high profit margin and take home pay).
5 scripts and roleplays for expired listings, for sale by owners, and non-owner occupied properties.
Using your "Radio Voice" to diffuse a conversation and calm people down.
How to create a positive mindset by choosing to opt-out.
The difference between acknowledgement and acceptance.
Her simple plan that results in 10% of her sphere of influence (fan club) sending her a referral every year.
Prospecting schedule, lead conversion ratio, profit margin, and more.
Paula Burlison SUCCESS CALL …
Watch video above or listen to audio below:
***Note: If you can not see the audio player above, REFRESH your browser and try again.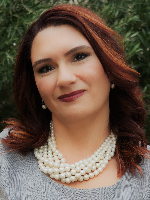 .
.
.
.
To listen on iTunes, click HERE.
To listen on Google Podcast, click HERE.
To download, right click the "Download" link below and "save as" to your computer.
Download FULL Audio Running Time: 90 minutes
Website:
LasVegasHomes.com/PaulaBurlison
Background:
Paula Burlison is with Coldwell Banker in Henderson, Nevada (Las Vegas). Last year, she closed 68 transactions with a total sales volume of 20 million. Her average sales price was 318 thousand of which 45% were buyers and 55% were sellers.
Paula is a solo agent with 2 administrative assistants. She has been an agent for 19 years.
2019 Stats:
68 closings
20 million sales volume
3 member group:

1 transaction manager
1 listing manager
1 solo agent
Niche:
expired listings
for sale by owners
non-owner occupied
repeat & referrals
past clients
sphere of influence